Introducing: Sasha Golding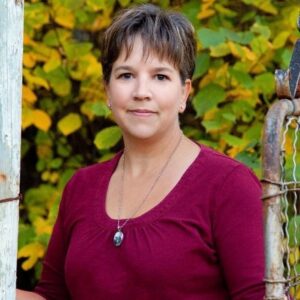 We recently had the chance to sit with Sasha Golding, a graduate of our Dream Business Program, owner of Silver Frame Productions, and one of our favourite human beings! We wanted to pull back the curtain on her experiences with the program to inspire anyone who's on the fence about applying and to give economic developers an idea of how our program directly impacts rural entrepreneurs and their communities. 
Entrepreneurial Spirit.
Sasha comes from a family of entrepreneurs. Both of her grandfathers, whom she greatly admired, ran their own businesses, so the entrepreneurial spirit has always been in her DNA. She even started a business of her own in high school and took part in a Junior Achievement business program, a memory she cherishes even today. 
So in many ways, Sasha was reconnecting with her entrepreneurial roots when, 10 years ago, she decided to leave the corporate world and get into business for herself. Sasha had a long and diverse career that she's extremely grateful for, but none of her roles satisfied her deeper call to work for herself. After the birth of her second child, she vowed to create a clear foundation that would fulfill her long-term ambitions and provide stability for herself and her family. It was during this period that she decided to start a business. 
A New Opportunity.
One of the skills she had learned was creating slideshows. She thought there was a great opportunity to help professionals like real estate agents and folks with family events and weddings in her small town so she enrolled in a federal program that helped her draft up a business plan and she got to work. She very quickly noticed a pattern. While making keepsake slideshows for family events, Sasha would be told that a lot of her client's photos and videos were in older formats like slides or negatives, or VHS tapes –i.e. there was no way to use them in a digital presentation.
So, Sasha took courses and joined associations (like The Photo Managers – formerly the Association of Personal Photo Organizers), and eventually decided to make digitization her primary service. Her business continued to grow until one day in Spring of 2021, she saw a posting from Community Futures, an economic developer that focuses on rural development, that mentioned enrollment for Mashup Lab's first Dream Business Program for folks in the Canadian prairies! 
Love At First Sight.
Sasha was always on the lookout for programs that could help her grow her business. From multi-day virtual events to 20-minute webinars, Sasha has explored the landscape of resources and programs in her area. "As soon as I interviewed with Andrew and Juanita I knew Mashup Lab was the real deal," Sasha recalls. "They were so genuine. I'll never forget how excited I was when I hung up the phone!"
The idea of a long-term 6-week program was exciting: "I'm grateful for all the resources that are available to me, but there's only so much you can cover in a 45-minute webinar." Such a deep, robust program with a long-term commitment was exciting, but at the same time caused a tinge of anxiety around logistics.
Sasha asked herself questions we hear from a lot of folks who check out our program: 
What if my kids or pets interrupt during our evening Zoom sessions?

What if I need to be a mom during those 2 hours? 
"The reality was so different. Not only were those things not an issue, but Andrew actively embraced interruptions and saw them as part of the process," she says with a smile in her voice.
Find Your People.
"I also loved that, even from the first session, it was clear that the program was designed to help create growth and opportunity in our local communities," she continues, "which is the whole reason I do what I do.  Being able to offer a service that isn't otherwise available in our rural area – and seeing folks spending their hard-earned money locally – benefits our community in immeasurable ways.  Being a part of that means a lot to me, and in turn allows me to support other local businesses, donate time or services to events, provide employment, and continue to do good here".   
Another huge benefit of the program was connecting with others. "To be real for a moment, being an entrepreneur in a rural community, especially during such a unique time like COVID, meant I felt very disconnected from a larger community at times. Through the Dream Business Program, I met some really amazing people and developed true friendships. Learning what entrepreneurs in other rural communities are seeing in their communities, tossing ideas back and forth, working through the Program material together, there are real benefits to all of that. There are folks from the program that I am still friends with to this day, and a few of us remain connected to offer support in each others' businesses as they grow.  
Laying A Foundation.
The word that kept popping up in our conversation was: foundation. "As a solopreneur, the freedom is liberating but sometimes paralyzing. You don't know what you don't know. The Dream Business Program gave me a foundation, in ways I hadn't yet explored despite operating for several years – such as the value of systems and building efficiency." For example, Sasha has added a Customer Relationship Management (CRM) tool for all of her customers. This gives her a better overview of her business and allows her to better serve her clients. 
"This is the best program I've taken in the 10 years I've been running my business. Sometimes business can feel like one step forward, two steps back. The folks at Mashup Lab gave me a foundation I can build on and a roadmap I can follow," she says enthusiastically. The days of feeling like she's treading water and not making true progress are now behind her, "My business is in the process of making a huge, permanent shift." 
The Future Is Bright.
And that shift has been felt in her community. Sasha has employed someone part-time to help her with scanning and digitizing, and plans to make that role permanent.  She also wants to move into a new space later this year that can double as a storefront, a place for workshops, and a work area.  Needless to say, we're incredibly excited to see what Sasha does next.
"Don't sit there worrying if this is the program for you! I promise you, if you live in a rural area and have a dream for your business, it is!" Thank you, Sasha, that's a heck of an endorsement. We're so grateful for you, and all of our graduates and partners.
Get In Touch.
If you'd like to learn more about Sasha's business, or if you have some old photos or home movies you'd like to turn into a shareable memory, you can find her at Silver Frame Productions.
Want to register for a Dream Business Program?
Check out our calendar to see what's coming up!
Are You Looking To Connect Yourself (Or Others) With Resources But Aren't Sure Where To Start?
If you're reading this, chances are you're an entrepreneur or someone who is passionate about their community and your business, just like these women. If you want to help unleash the untapped potential of your community or you have a business idea here are two ways you can help:
Share this article with one friend. Do you have a partner in crime? Do you know people who have BIG ideas and are looking to unleash them? Who comes to mind? Do you have a name in your head? This person would love to hear from you. Think of the ripple effect you could start!

If you want to plug into our resources, we would LOVE (seriously:

LOVE

) to meet you. The easiest way for you to do that is to

pick a time in our calendar

and we'll do the rest!