Summary
In the Spring of 2021, Mashup Lab partnered with the folks at Nicolet College and The GRID (Guiding Rural Innovation & Development) to facilitate a 6-week Virtual Business Incubator Program for aspiring entrepreneurs in the area.
How We Met
During the middle of 2020, the pandemic was in full swing, and all of the in-person events we'd typically love to attend went virtual. This meant that instead of travelling across North America, we could meet all sorts of folks across the continent from our living room.
One of the folks we met was Toni Van Doren, the Manager of Business and Innovation at the Nicolet Area Technical College in Wisconsin.
We realized that Toni's enthusiasm and passion for developing her community was something special. Her team had created a unique project called "The Grid"–a local collaboration of private companies, local orgs, and economic developers to support businesses in the area.
"The community in that part of Wisconsin is special. It's all about building bridges inside the community to benefit the community."
-Andrew Button, CEO & Founder, Mashup Lab
Why We Partnered
As of 2020, we'd reached 100+ businesses started in 60 communities across Nova Scotia and were looking to expand the program across North America. We were looking for partners who resonated with our mission, and Toni's team checked every box.
What caught Toni's eye was the fact that we'd driven so much interest in our programs. By then, we'd guided 200 folks through our process but received over 450 applicants through grassroots promotion.
"They weren't looking to reinvent the wheel. They wanted to reach folks in their community, and by partnering with us, they could reach those folks more quickly."
– Andrew Button
How The Virtual Business Incubator Works
Our Business Incubator Program, or what we like to call the Dream Business Program, is built on the knowledge that when a new business fails, it's rarely because there wasn't a workable business model but because there is a missing piece (or many pieces) in that model. There is very little support for entrepreneurs at the very early stage of starting a business – this is where Mashup Lab can help.
The Dream Business Program is designed to take prospective entrepreneurs off the sidelines and get them into the entrepreneurial game by helping participants figure out which pieces are necessary for their businesses to succeed and grow.
The Dream Business Program is delivered 100% online over a 6-week period and allows up to 15 participants in one cohort. These weekly sessions provide training, tools and resources to start and grow your business, and 1-on-1 coaching, mentorship opportunities and a special event at the end of the 6-week session to celebrate your successful completion of the program. Each weekly session is 1.5 hours, with a dedicated facilitator for each cohort.
You'll be able to read more about our program here.
Why It Worked: Six Key Success Factors
Here's why we believe this project was a magical and impactful experience for everyone involved.
Key Success Factor #1: The work that Toni and her team had done in Rhinelander (and the 5 or 6 counties we ran in) meant that all the heavy lifting had been done. The infrastructure for collaboration and communication was already in place–what a beautiful environment to walk into!
Key Success Factor #2: When we visited Nicolet college, the "spirit of collaboration" blew us away! It was a profound experience. You could see how much everyone enjoyed working together to make their community a better place. This spirit of collaboration (and laughter) permeated into the larger community.
Key Success Factor #3: They were forward-thinking, open-minded, and curious about best practices. The folks we collaborated with understood that a rising tide lifts all ships and that by operating from an abundance mindset, we could make some extraordinary things happen in the community.
Key Success Factor #4: They shared our belief that a massive untapped pool of entrepreneurial talent was sitting on the sidelines. They didn't have proof yet, but they shared the instinct, which made our work easy!
Key Success Factor #5: They valued all kinds of entrepreneurship and understood the "invisible ripples" of small business enablement. The focus isn't just on tech or larger businesses to the exclusion of folks sitting in their living room with an idea. The folks in Rhinelander understood that the true impact of a program like this is often intangible, far-reaching, and hard to measure.
Key Success Factor #6: We both had a shared urgency! They were chomping at the bit to get things started. If not for the Christmas holidays, we would have delivered the program even sooner! That's how passionate and ready this community was!
Student Success Stories
The size of the Rhinelander cohort was smaller relative to some of the other groups we worked with, but what they needed to have in size they made up for in spirit and collaboration!
Here are some of our featured graduates:
Wonder Wild Farm
Flower farming and designing for weddings, subscriptions, special orders, workshops, and events in The Northwoods.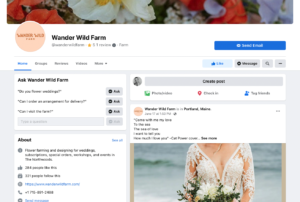 Childs Frame Co
Picture framing, art gallery, installation, and conservation.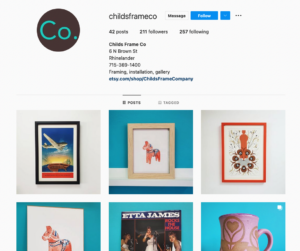 Wild Source Salmon
Sharing wild and sustainable sockeye salmon from the pristine waters of Bristol Bay, Alaska, to Eagle River, Wisconsin, and surrounding communities.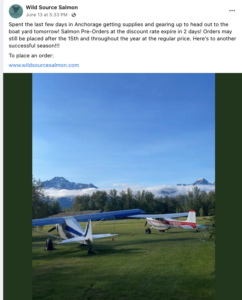 Hear What Our Graduates Said At Celebration Night
We ran a Celebration Night to watch some of our graduates pitch their businesses and answer some questions. Here is what they had to say about the program:
In just 1.5 hours over six weeks–there's so much I learned that I didn't get from my entrepreneurship classes. It provided a lot of quick learning. I asked: "Do I even need the rest of my entrepreneurship classes anymore?"–that's how much I learned! Andrew was able to make this work for all of us even though we were all in different places. -Amanda
People really valued the group dynamic…the way that Andrew set it up, you're learning from each other. It's not just learning from a teacher and handing your work in. It's collaborative and democratic. The underlying concepts were explained and then you could do these lightning round activities where you would "bring it," then "shut up," and listen to others. I appreciated the hands-on, interactive approach and cross-pollination to help each other's businesses. -Melinda
Andrew's presence made all of those things. Sincere, intense, but patient enthusiasm for everyone's growth. He seemed really invested in all of us working it out, and he had a great sense of humour about everything. He'd always come up with a pointed question that got to the heart of the lesson. -Jared
You can watch the pitch night and Q&A session here; Q&A begins at the 25:30 mark if you'd like to skip ahead.
More Info On The GRID
The GRID, which stands for Guiding Rural Innovation and Development, is a collaborative economic development initiative focused on building a culture of innovation and entrepreneurship in northern Wisconsin to generate a vibrant and diverse rural economy. The GRID is designed to provide a network among new and growing businesses and to connect them to information and resources. Collaborators include the Vilas County Economic Development Corporation (EDC), Oneida County EDC, Grow North Regional EDC, UW Extension – Oneida County, ArtStart/Create Northwoods, and Nicolet College.
Contact Info For The GRID:
Want to explore if these results are possible in your region?
If you're reading this, chances are you're passionate about their community. If you want to explore partnering with us to unleash your community's untapped potential, we'd LOVE to meet you. The easiest way for you to do that is to pick a time in our calendar, and we'll do the rest!