Today we're speaking with Kelly Myles, a rural entrepreneur in Nova Scotia who serves the equestrian sports industry. Kelly recently graduated from our Dream Business Program and was kind enough to share her experience.
The Dream Business Program is a 6-week virtual incubator that gives rural entrepreneurs the clarity, confidence, and courage to take their business to the next level–whether it's barely an idea or fully formed.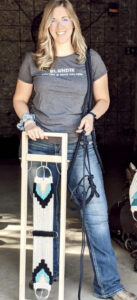 MUL: Kelly, please share a bit about your business & your story.
Kelly: I have bounced around my whole adult life trying to find what works for me and makes me truly happy. Trying one entrepreneurial venture after another, but nothing seemed to stick for me, I was never truly passionate about what I was doing.
I have always had horses and a great love for the industry and for really good quality gear. Being on the Atlantic coast of Canada we don't have a lot of access to what I consider to be "really good" quality gear, so being that I am a very hands-on person, I decided to learn how to make some.
My business is based in the equestrian sports industry. I make halters and lead lines for horses out of rope and cinches (which is what holds the saddle on) out of mohair. I have been making mohair cinches for approximately 6 years and added the halters and lead lines to my business in December of 2020.
The business really took off in January of 2021. The local equestrian community here in Nova Scotia (and even in New Brunswick!) clearly loved the fact that there was someone local that made custom gear.
MUL: What led you to Mashup Lab?
Kelly: I had a friend who had gone through the program before and she highly recommended Mashup Lab to me.
I was also looking for some "training" or further education on and around growing my small business in rural NS.
MUL: Any fears/worries/concerns?
Kelly: I definitely felt like I was going to be wasting their time. I wasn't sure if it was going to be the right fit for me because I didn't really come with an idea, I came with an existing business, but I needed help focusing my energy and attention on the things that would help me grow.
MUL: What were your first impressions?
Kelly: They were great! Everyone was very welcoming from the first email to Juanita to my interview with Darren and then throughout the program. I still feel like I can email anyone from Mashup Lab and they are willing to offer any assistance.
MUL: How was your experience?
Kelly: It was fabulous! I had already been researching some of the things that we discussed, but there were parts that I had never considered. After we discussed them in the program it just made sense to me. And I still think about and consider them today when I make decisions about my business. I also love to share info, so it's been great to have that knowledge and spread it around!!
MUL: What was your favourite aspect of the program?
Kelly: I think my answer to this is the last part of my previous answer. I LOVE sharing good-quality info with people. I'm a bit of a nerd that way. I also like to see people succeed and if I can make a small suggestion or give just a piece of advice to help I am happy to do so. This program made it easy to do that. All the great info that was shared is essential when you have an idea.
What were your unexpected takeaways?

Kelly: That the program helped me more than I ever thought possible! I hate "wasting" my time and the time of others. Most of the time in my small business journey I have had to figure things out on my own. Anytime I have searched for help with various things in the past it's always turned out to be just that, a waste of time or required such a huge financial investment that it was never feasible for me. So I was very happy to have this program that wasn't a huge time commitment and such great information that really helped me.

MUL: What would you say to anyone on the fence?
Kelly: DO IT – what do you have to lose?
This program puts everything into perspective. If you have an idea or a sense of an idea it will help you line things up so you know where to go next and what steps to take. If you already have a business it will help you focus on some very important key aspects that you may have missed because you've been busy focusing on other things.
For me, it just really helped me focus and know that I have a good business and that I'm on the right track and if I keep going and applying the things that I learned that this business can go in any direction I want.
MUL: Anything else you'd like to share?
Kelly: I'd like to thank everyone at the Mashup Lab team for making this possible. It is such a great program and I think anyone who has an idea or a young business should take part!
MUL: Kelly, thanks so much for speaking with us today. It was a pleasure hearing your story.